ACHIEVE MISSION READINESS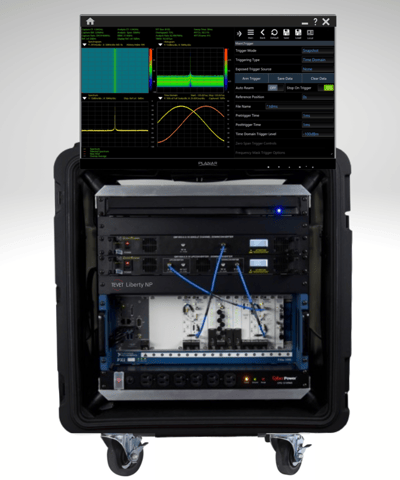 LIBERTY NP
In today's rapidly evolving wireless landscape, modern radar, electronic warfare, and signal intelligence systems are generating, processing, and recording wide signal bandwidths at a broad range of frequencies.
Test engineers need flexible tools that can provide adaptability in electronic warfare and 5G and other new signal types so they can respond to emerging threats. The Liberty NP software-defined instrument (SDI) brings a modular and flexible COTS solution to real-time RF testing to threat response applications.
Liberty NP is a modular, COTS, software-defined, multi-channel, real-time RF record and playback, and analysis system with TPM2.0, in-chassis RAID, and optional RTSA for RADAR and EW applications.
Available measurement frequencies of 6, 14, 18, 26.5, and 40 GHz



Modular, compact, multi-function, software-defined architecture can reduce the size, weight, and power (SWaP) over conventional box instruments by a factor of 2 to 10

Unique, channelized RTSA enhances the detection of small amplitude LPI signals by up to 30 dB


Up to 128 TB of high-speed SSD RAID per chassis, eliminating the need for external data recorders


Precision 2 - 8+ CH multi-channel sync with inter-channel time and phase skew < 10ps and < 1 degree, respectively